Category: Politics • Psychology • Social science
This article is reposted from the old Wordpress incarnation of Not Exactly Rocket Science.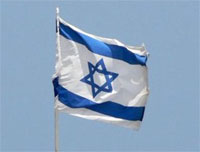 For all the millions that are poured into electoral campaigns, a voter's choice can be influenced by the subtlest of signals. Israeli scientists have found that even subliminal exposure to national flags can shift a person's political views and even who they vote for. They managed to affect the attitudes of volunteers to the Israeli-Palestine conflict by showing them the Israeli flag for just 16 thousandths of a second, barely long enough for the image to consciously register.
These results are stunning - even for people right in the middle of the one of the modern age's most deep-rooted conflicts, the subconscious sight of a flag drew their sympathies towards the political centre.
In some ways, it's not surprising. The last decades of experimental psychology have shown us that the our conscious view of the world is a construct created by our brain. We simply cannot consciously process the barrage of information constantly arriving through our senses and to save us from a mental breakdown, our brain does a lot of subconscious computing. The upshot of this is that our decisions can be strongly influenced by sights, sounds and other stimuli that we're completely unaware of. Have a look at this video of mind-manipulator Derren Brown for a classic example of this.
Our political views are no different. In an ideal world, we would base them on a rational consideration of the relevant facts and our own beliefs, but in the real one, subliminal symbols pull on the puppet-strings too. National flags should be capable of this; to many people, they carry a weighty importance out of all proportion to their nature as rectangular sheets of cloth
Posted by Ed Yong at 8:30 AM • 2 Comments • 0 TrackBacks