This one crosses religious boundaries — it will get me in trouble with some atheists, even. What is one act that will turn many a respectable citizen of Western society into a gibbering denialist?
Sex.
We have an unfortunate cultural association between religion and sex. Sex is dirty; sex is sinful; sex is corruption; sex is filthy; sex will lead you into iniquity and evil. Christianity is rife with these attitudes, and you can find them imbedded deeply into the Bible. Often it's because women are regarded as particularly wicked tempters, the source of original sin, and just itching to destroy you with their sweet, sweet flesh.
Proverbs 5: My son, attend unto my wisdom, and bow thine ear to my understanding: That thou mayest regard discretion, and that thy lips may keep knowledge. For the lips of a strange woman drop as an honeycomb, and her mouth is smoother than oil: But her end is bitter as wormwood, sharp as a two-edged sword. Her feet go down to death; her steps take hold on hell. Lest thou shouldest ponder the path of life, her ways are moveable , that thou canst not know them. Hear me now therefore, O ye children, and depart not from the words of my mouth. Remove thy way far from her, and come not nigh the door of her house: Lest thou give thine honour unto others, and thy years unto the cruel: Lest strangers be filled with thy wealth; and thy labours be in the house of a stranger; And thou mourn at the last, when thy flesh and thy body are consumed, And say, How have I hated instruction, and my heart despised reproof; And have not obeyed the voice of my teachers, nor inclined mine ear to them that instructed me!
It's in the New Testament, too, made even more contemptible in the words of that wretched misogynist, Paul. Sex is bad, and your best bet is to avoid it altogether; if you can't resist the wickedness, then and only then should you marry. Marriage isn't as much about celebrating physical love as it is a voluntary act of quarantine, and the one outlet God allows you for venting your sinful urges.
1 Corinthians 7:1-2: It is good for a man not to touch a woman. Nevertheless, to avoid fornication, let every man have his own wife, and let every woman have her own husband.
1 Corinthians 7:7-9: For I would that all men were even as I myself. But every man hath his proper gift of God, one after this manner, and another after that. I say therefore to the unmarried and widows, It is good for them if they abide even as I. But if they cannot contain, let them marry: for it is better to marry than to burn.
The Catholic conception of Mary is another example of this strange aversion to sexuality: she was born immaculate, with no trace of the sin that the rest of us are supposedly all born with, and she was a perpetual virgin. That latter point is considered a virtue, rather than a lifelong frustration.
Now if you really want to annoy a good old patriarchal Christian, all you have to do is couple religion and sex…and this is one of the strangest consequences of their perverse association of sex with corruption. I think sex is absolutely wonderful and fun and, of course, very personal and intimate…what could be better PR for religion than to bring it together with good, healthy, loving sex? Except it doesn't work that way. Good Christians were outraged at this magazine cover.
That's an absolutely fabulous Mary. I'd much rather worship her than that sterile, shriveled prude she's always portrayed as.
Another shocker is to simply contemplate Jesus' love life: many people ran home to bleach their brains at seeing this image on a poster. What? Jesus might have been gay? Unthinkable! He's supposed to be sexless!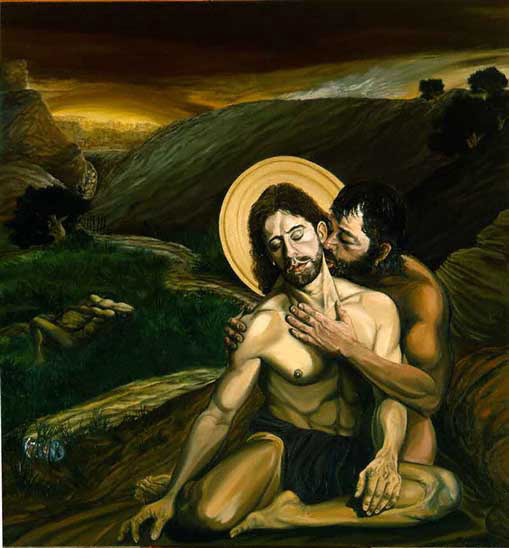 And of course, they don't feel any better about suggesting that maybe Jesus was a practicing heterosexual: that tripe Dan Brown wrote got a lot of mileage out of the offended Christians who protested over the fact that his story is about Jesus having children and descendants living into the modern day.
One odd effect this has had on me is that some religious opponents of my 'militant' atheism apparently believe the way to hurt me is to … send me porn! I've been subscribed to gay men's magazines, I've had quite ordinary hardcore porn mailed to me (I'm actually more cautious about opening my office in public because I'll sometimes find surprisingly explicit images sent to me, than I am at all concerned about bombs), and I've got a few DVDs lying around somewhere that I suspect are pretty raunchy — I don't know because I haven't watched them. I'm sorry to disappoint, but I'm not at all offended by that sort of thing…I'm more bothered by the fact that it is a waste of paper and has to be recycled than I am by sex or nudity.
I just find it so odd that people would think I might be offended by a photo of someone's genitals.
Which brings us to the latest great sacrilege being perpetrated in the US: the Smut for Smut exchange. Students in San Antonio have been swapping pornography for religious texts in an entirely voluntary program. It's controversial and it gets people upset.
I approve.
Not everyone does. Hemant thinks it's a bad idea: it's offensive, it denigrates religion, the people doing it are jerks, it makes atheists look bad. I disagree. If it's not offending someone, sacrilege isn't sacrilege — it's not doing what it is supposed to do, which is to defy an invalid social norm. If everyone thinks that what you're doing is nice and compatible with their superstitions, you aren't going to make them think! And it worked.
The other part of this issue, though, seems to be taken for granted by everyone. If I trade you a photo of a man and woman having sex for your ragged old Bible, who has gotten the better deal? How does that denigrate religion, unless you're assuming that sexuality is a sin, a corruption, a filthy offense to the gods? Hemant applauded the "Fiction for fiction", which I agree is also an excellent idea…but what's the difference? It seems to me that it simply skirted around one hot button for religion, sex; it's a more tightly focused campaign, but I think the whole weird sexual self-loathing aspect of modern Christianity is also something worth highlighting.
Especially since atheism doesn't have to be anti-sex, and neither does religion.