Better to light a candle than to curse the darkness. -Chinese Proverb
Every once in a while, we'll look out into the sky with a telescope, and see some spectacular glowing gas.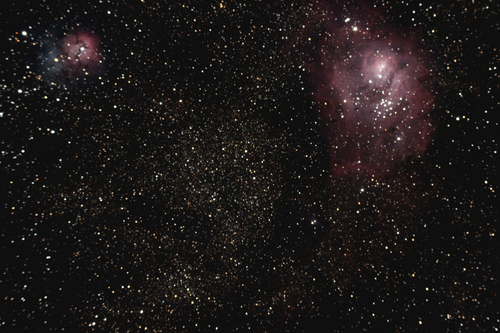 These nebulae typically come about from dead or dying stars, and are some of the most spectacular sight in the sky for astronomers, from amateur to professional.
But in the 1940s, an astronomer named Bart Bok observed these little dark "defects" in a few of these nebulae. It looked like something dark was simply sucking in all of the light around it, and refused to let any out.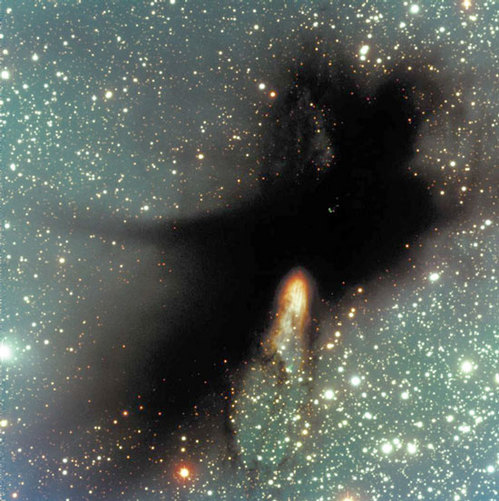 In fact, looking even with modern technology (like the Hubble space telescope), we can see that a few of these regions are loaded with these weird globs of darkness.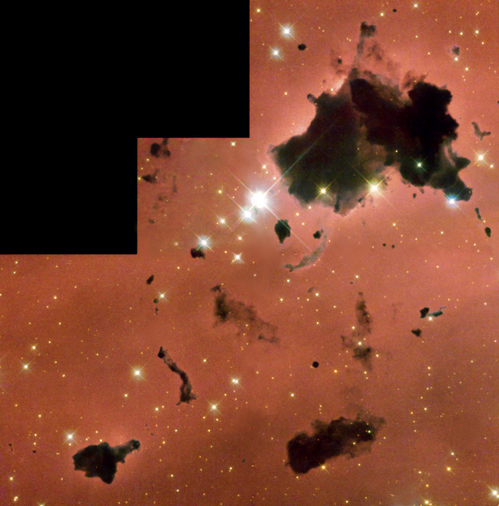 (FYI, those black squares at the upper left tell you that this was taken with Hubble's old camera, WFPC2.)
These are named Bok globules after their discoverer, but for a long time, we didn't really know what they were. Of course, they must be gas and dust that blocks the light, but what was going on inside of them?
In 1947, Bok and Edith Reilly wrote what they hypothesized was going on in these globules.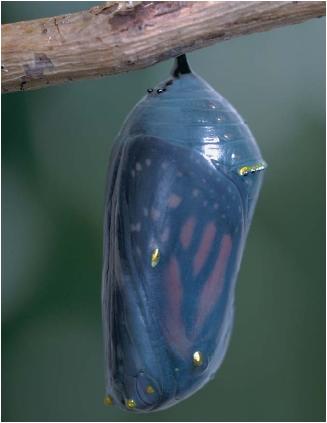 Similar to an insect's cocoon, they said, "these probably represent the evolutionary stage just preceding the formation of a star." Only, for over 40 years, there was no way to look for them.
It was only in 1990, seven years after Bok's death, that they were able to confirm that, indeed, there are stars being born in these collapsing regions! Why did it take so long? Because we needed to look in infrared light to find the signatures of star birth, since visible light is unable to make it through these dark globules.
And today? Let's take a look at the famous "pillars of creation" in the Eagle Nebula.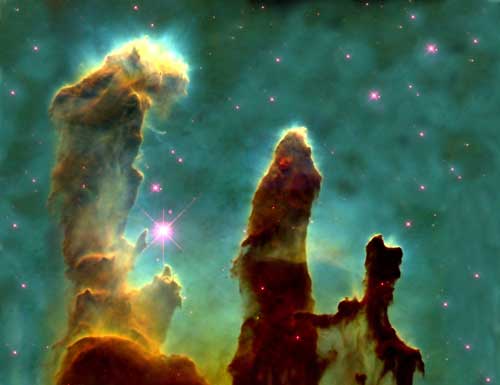 These are clearly collapsing regions of gas and dust, but are there stars forming there? Again, visible light is no help. But if we look to our X-ray telescope, Chandra, what do we find?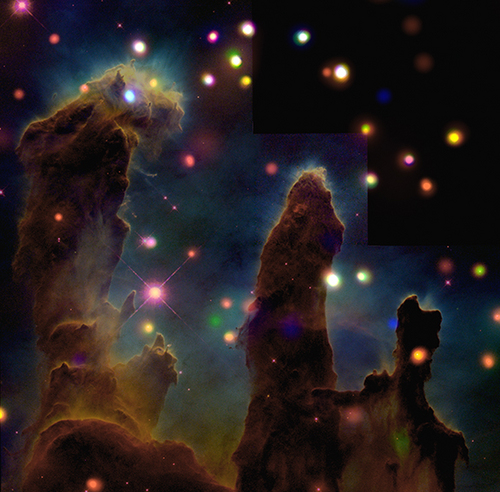 Amazing! Sometimes, we get it right on our first guess, even if it isn't confirmed until beyond our lifetimes. It's one of the best feelings a scientist can get, is to be on the cutting edge and make an educated guess, and turn out to be right!
So I'm curious now: of all the educated guesses scientists are making, what do you think are the ones likely to turn out to be right?
Posted by Ethan Siegel at 7:36 PM • 0 Comments • 0 TrackBacks